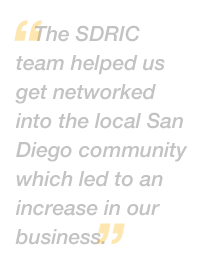 Application for Cluster Services
If your company is a small business (less than 499 employees) with a location in the County of San Diego and engaged in the research and development and/or sale of advanced technology that can be adapted for the Department of Defense or Homeland Security needs, we would like to invite you to apply for participation in this unique regional opportunity. The application involves:
Part I:
To have an intake meeting with you we need Part 1 of the application covering:
Company Profile:

The intent of this section is to gather key publicly available and nonproprietary information about the company.

Technology Profile:

The intent here is to determine how the company's technology relates to one or more of the topic areas, its maturity, stage of development and intended application.

Commercialization Needs:

The intent of this section is to have the company identify what it perceives to be its critical needs or short comings that limit or restrict the transition of its technology into the marketplace.
Part II:
We found it to be very valuable in understanding your needs to have your self assessment.
Self Assesment Summary:

The intent here is for you to consider your experience related to critical business and technical functions, systems and processes.
Process: Following receipt and initial acceptance of your application, the Cluster office will contact you to arrange a time to meet with the intake committee. The intake meeting will take 40 minutes, divided into:

Introduction - 10 minutes
Your company capabilities presentation - 15 minutes
Discussion and intake committee questions - 10 minutes
SDRIC initial support strategy - 5 minutes

The suggested company capabilities presentation is comprised of seven slides, and a template will be provided following initial acceptance of your application.

We ask that your presentation is provided by the company CEO and include any other associates you choose. The SDRIC intake committee is comprised of the SDRIC Program Director and four senior-level executives with management and defense market experience.

Intake meetings take place at San Diego State University in a conference room equipped with projector and screen. Directions and parking details will be provided.

Application: To apply, download, complete, and submit an application following the detailed instructions from the pdf documents below:
Submission: This opportunity shall remain open until further notice. Applications will be accepted via electronic submission (email to ccat@foundation.sdsu.edu).
Questions: Questions concerning this opportunity may be submitted via email to Jeff Nagle,at jnagle@foundation.sdsu.edu.