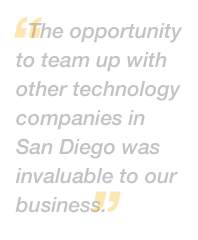 San Diego Regional Innovation Cluster
Key Business Development Resources & Support
The San Diego Regional Innovation Cluster, hosted by the SDSU College of Business Administration, Lavin Entrepreneurship Center, is funded by the U.S. Small Business Administration to help San Diego-area small businesses succeed and grow in the Defense and Homeland Security marketplaces. Following intake and enrollment, the Cluster and its government, business and academic partners, will surround the company with a variety of support services and opportunities in a long term partnership.

Business Training/Counseling/Mentoring: Based on assessment of a small company's business plan, model, strategy, and management team, the cluster team can provide business development training, counseling, mentoring, and other services.

Technology Commercialization Support: These services include market research studies and strategic planning, including technology transfer (licensing support).

Venture or Equity Funding: Identification of capital requirements and exposure to investment opportunities will be provided by a network of angel and venture capital organizations which are resources that can be used to meet this small business need.

Intellectual Property and Export Assistance: Training programs and seminars will be provided to help small companies in the development of Intellectual Property protection strategies, licensing and partnership agreements. The Lavin Entrepreneurship Center and the SDSU Research Foundation with its Tech Transfer Office will assist in providing or arranging for IP and Export training from Department of Commerce, local law firms, and other providers.

Entrepreneurs-in-Residence/Mentors: Experienced business professionals will help take the small business through the transition and commercialization process. Partners in the SDADT cluster have extensive resources to draw from as needed to help small businesses.

Springboards: Small businesses will be selected for participation in "SpringBoard" through the CONNECT organization which prepares the companies for presentations to investment groups and potential strategic partners in addition to receiving potential mentorship.

Special Workshops: Working in the Department of Defense arena is a challenge for even the most experienced company. The Foundation for Enterprise Development offers a series of half-day workshops for companies seeking information on how to partner with DoD primes, contract and procurement in the DoD sector, and DoD R&D Transition Support.